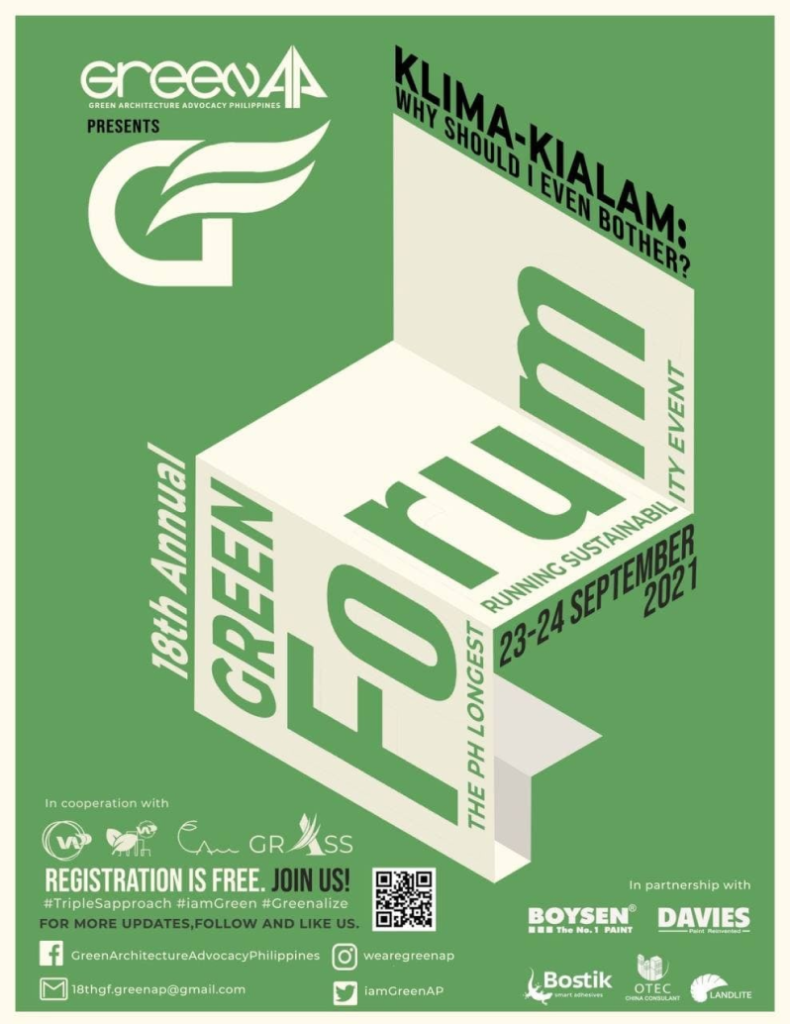 18th Annual Green Forum – Call to Action
"As presented by Fr. Jose, there are detrimental implications to climate change that are knocking at the doorstep. Mitigation and Adaptation as a global community is key, but our intentions and actions need some adjustments as well. Ms. Nigel has also touched on mindful consumerism, and Mr. Ethan clarified how society views certain disasters that repeat itself."
"KLIMA-Kialam, to me, is more about the mindset and the mentality shift towards quote-unquote "environ-mentality"
"In addition to the science presented yesterday and today, let me share my perspective on human behavior:
Religion provides haven for an individual's moral standing, and it continues to recruit and retain a constant membership stream. But, there's a flip side to morality:
(Icebreaker: Porn Meme – "If a single tree is planted for every view of porn, then climate change would be solved")
You know, it's actually possible. The taboo industry, unfortunately, continues to thrive and attract younger people time after time."
"So… why am I talking about Religion and Porn? – because both oppositions have done its call to action. Religion inspires DEVOTION, while Porn encourages ADDICTION. To discuss how the green advocacy could similarly inspire devotion or encourage addiction, here's a question:"
"What makes RELIGION and PORN influential in its own ways?"
"Firstly, both seemingly offer PERSONAL CONNECTION & COLLECTIVE EXCLUSIVITY, to fulfill the prospects of quote-unquote POSSIBILITY & PROBABILITY."
"E.g. a hopeless romantic who watches porn to explore what could be, or a parishioner who recruits new members by convincing them of what should be"
"Secondly, PLEASURE & BELIEF are attributes that have justified people's actions – are both good and bad, healthy and unhealthy – within the domain of fictional reality. It's fictional because it's illusory and subjective, but grounded on reality because it's evident and objective."
"In other words, people and society tend to display this PARADOXICAL BEHAVIOR in search of fulfillment. This self-contradicting mentality facilitates the polar directions we take to achieve fulfillment."
"This pandemic is a paradox, and we've heard the battle cry "You are saving lives by staying at home" But, you can also save lives by working in the hospital."
"So, to sell influence, you have to leverage the duality innate in human behavior. I have to give credit to my interactions with friends and internet strangers as well. We may not have expert opinions now, but our opinions may weigh more than you think – we are heirs to this planet after all."
Here are two questions to ponder on:
– HOW CAN THE GREEN INDUSTRY EFFECTIVELY TRANSLATE AND COMMUNICATE ITS PROSPECTIVE VERSIONS OF POSSIBILITY AND PROBABILITY?
– IF PLEASURE & BELIEF JUSTIFY AND DRIVE PARADOXICAL ACTIONS, THEN WHAT COULD BE THE FICTIONAL REALITY OF THE GREEN INDUSTRY, AND HOW FULFILLING WOULD IT BE?
"I think that bridging the youth with the climate change crisis is working, but it remains challenging, because it is somehow perceived as still an adult problem. Us kids were born into this growing issue, and we may perceive today as merely our normal. We haven't experienced the same, blissful environment that the EARTH once was during your childhood."
"On the brighter and broader end of the green advocacy, the call for environmental solutions, such as producing organic goods and cleaning up the ocean, are praiseworthy. Additionally, here are some of my actionable suggestions:
– We should develop and practice healthy habits for the collective good. We all have are small habits and personal rituals, right? So, how do we add or include the environment to our habits? Keeping your house tidy, disposing your trash properly or advocating and supporting green alternatives are remarkable baby steps.
– Education matters too, and achieving the 'Green Mindset', to me, requires more immersion than just awareness and involvement. Aren't solutions supposed to be fluid and in motion? Immersion is not only actionable, but it also encourages a collective behavior for a mutually beneficial outcome. This is where institutional and educational players are key.
"I hope that we continue to strive on making the mentality shift towards greener pastures. Reinvent to realign!"